Home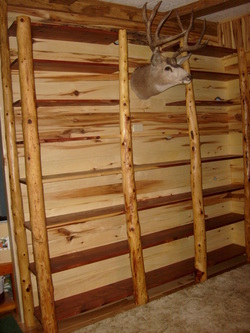 custom cedar and aspen bookcase
Welcome to Dan's Outback Woodworks. I am a one man operation making products in the USA. My products are all handmade from various types of wood. No two items are exactly alike as they are all individually produced with pride and attention to detail and quality.
I make a large assortment of items including:
Wood Home Decor
Yard Ornamentation
Collectible Wooden toys
Seasonal items
Wood Furniture
Pet Caskets
Custom Wood Products
Antique Reproductions
I also do restorations and repairs on wood items.
Browse through my pages to see a small sample of the products I produce. If you have an idea, contact me and let me make you a one of a kind wooden keepsake.
Dan's Outback Woodworks
(970) 984-2662
Daniel Moss
0476 Co Rd 243
New Castle, CO 81647
e-mail:
dan@dansoutbackwoodworks.com
---